Caressa Cameron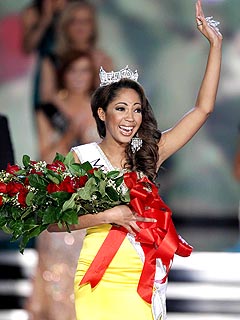 She was on born c. 1987. Caressa Cameron is an American beauty pageant titleholder from Fredericksburg, Virginia, who won the title of Miss America 2010.
She graduated from Massaponax High School and currently attends Virginia Commonwealth University located in Richmond, Virginia.
Caressa Cameron won the Miss Virginia title on June 28, 2009 having previously competed for that title three times. In prior competitions she had placed first runner-up in 2008 and second runner-up in 2007 and 2006. In addition to competing at Miss Virginia, Cameron placed 2nd runner-up to Tori Hall at Miss Virginia Teen USA 2005 and 2nd runner-up to Amber Copley at Miss Virginia USA 2006.
On January 27, 2010, Caressa Cameron won a $2,000 scholarship in winning the Preliminary Talent competition in vocal pop.
On January 30, 2010, Caressa Cameron won the Miss America 2010 pageant held at Planet Hollywood in Las Vegas, Nevada. Caressa Cameron won a $50,000 scholarship, beating out 52 other contestants, and became the third Miss Virginia to win the national title.
Caressa Cameron is 5 foot 4 inches, and wears a size 7 shoe.
She is the 8th African American woman to win the prestigious title. The 1st African American woman to win the title was Vanessa L. Williams in 1984, who was then followed by Suzette Charles who is bi-racial with African American heritage.